The main issues facing users of Tank water are: Contamination by Cryptosporidium, Giardia, eColi and airborne organic compounds AND the fact that rain water is essentially distilled water which will rob your body of essential minerals. So, what is the Best Water Filtration for Tank Water? Here are 5 types of water filtration that are effective in purifying your tank water of the common bacteria and chemicals which can endanger your health.
Crystal Quartz
The unique piezo electric effect of Crystal Quartz helps to soften the water and stabilises the Oxidation/Reduction Potential to give you the best tasting, fully energized water.
O-Dobi Beads
O-Dobi beads were discovered after a ten year search  for the perfect hydrogen and alkalizing natural media.
O-Dobi is a patented media designed specifically for a slow release of alkaline minerals calcium and magnesium, plus generation of infused molecular hydrogen. It slowly releases these elements to alkalize and to infuse the water with hydrogen gas. Tested to show 3x the hydrogen delivery of a $4000 electric ionizer.
Ceramic Magnets
Ceramic Magnets stabilize pH in the water by creating a strong magnetic field. Positioned after the O-Dobi to maintain its alkalizing effect.
Tourmaline
Tourmaline is a semiprecious gem. It has the unique ability to soften water and impart far infra red energy. Tourmaline has a very soothing effect on nerves. It is also well known for its ability to aid in the detoxification process, for balancing metabolic functions, increasing vitality in living tissues and enhancing energy levels. Water is sweeter, softer and more delicious.
KDF-85
Patented KDF-85 is the best way to remove and neutralise heavy metals in your water. It has superior taste and odour reduction capabilities
It also reduces the effects of hard water and controls bacteria within the filter.
It's also the most expensive filtration media in the world.
Catalytic Carbon
Our Catalytic Carbon is the best filtration carbon in the world with up to 8 times the surface area of ordinary granular carbon. Most activated carbon filters only remove chlorine. Catalytic Carbon also removes chloramines and far more VOC's (volatile organics compounds)
It also removes toxins like volatile organics, trihalomethanes, pesticides, pharmaceuticals and more..
Activated Alumina
Activated Alumina is not to be confused with Aluminum. It's actually the same substance as Ruby and Sapphires. Our life of filter tests show up to 70% reduction in fluoride. Fluoride is one of the hardest compounds to remove from water and a 70% reduction will drastically reduce your daily exposure to fluoride.
Filter Pads
One Micron Filter Pads between each layer separate filter medias and protect against carbon 'fines' leaking into your water.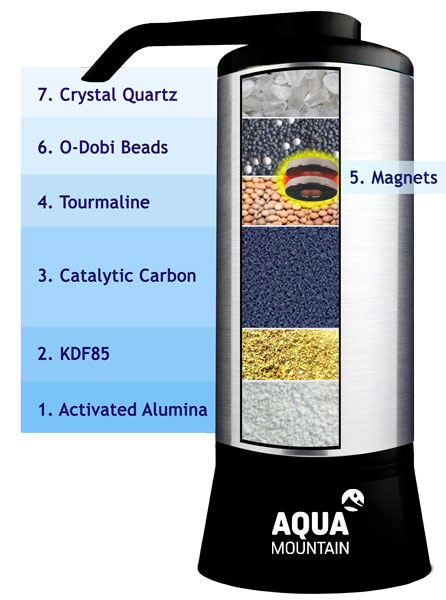 Save Save Save Save Save Save Save Save Save Save
Save